COMRADES OF THE GREAT WAR (SEAFORD BRANCH) 
To commemorate the 100th anniversary of Seaford in the Great War, 1914 – 1918, we are displaying the wonderful photograph of the Seaford Branch of the 'Comrades of the Great War'.  The 'Comrades of the Great War' were formed in 1917 and later, in 1921, joined three other similar societies to became the British Legion.
This photograph has over 100 Seaford members, the majority of them having returned home after the hostilities ceased.
We have enlarged this photograph to enable you to see all these men clearly, in the hope that you may recognise your grand-father, or great grand-father. This is an historic photograph, and is of great importance to the history of our town. It is for that reason that we want to have as many of these Seaford men named as possible. We do have 64 names listed for this photograph, thanks to the late Mr. Walter Pettitt, but we are not sure to whom all the names belong. If your Seaford family name is in the list, please dig out your old family photos to see if there is a match with anyone in this photograph of 1919-1920.
All the men have been numbered to make it easier for you to name anyone you know. This is a huge project, and will take a very long time to complete, if in deed it ever does get completed. These Seafordians should all be remembered, and we should all know who they are.
If any of your ancestors took part in the Great War, whether they survived the war or not, please consider sending a scanned image of them to seaford.times@gmail.com They will then be remembered forever in what will become an historic visual record for future generations.
Here is our list of names for the photos below. 
Mr. Avery; Mr.Batholomew, 'Donkey'; Harry Bailey, (Carpenter); Clem Berry; Arthur Boniface;  Mr.Bowley (Bowlie); George 'Tosh' Burgess; Stan Burtenshaw; Mr. Cale; Mr. Cheal; Tim Collins, (Good footballer); Compo Bill; Jack Cosstick; Ben Elliott; Bill 'Stosh' Elliott, Bill;  Mr. Ernsbanks, 'Muddy' or Ernest Banks;  Mr. Ellis (Painter);  Ernie Fears;  Fred Foster;  T. Gates;  'Tosh' Green;  Mr. Hamper;   Joss? Harriott (Sailor); Mr. Huntly (Next to little man in hat); Mr. Hutchinson; Mr. Isted.(Poultry shop bottom High St.); Fred Kennett;   Jess? Fred Lambert; Charlie Lambert; Horace Layen; Mr. Macey; Ralph Morling; Gaynor Parks; Mr. Pettitt; Bill Rhen;  Fred Sexton; Les Seymour; Mr. Simmons. (Labourer);  Bert Simmons;  Mr. Stafford;  Jimmy Wild;  Bob Willis;  Walt Woolgar (Old Tree).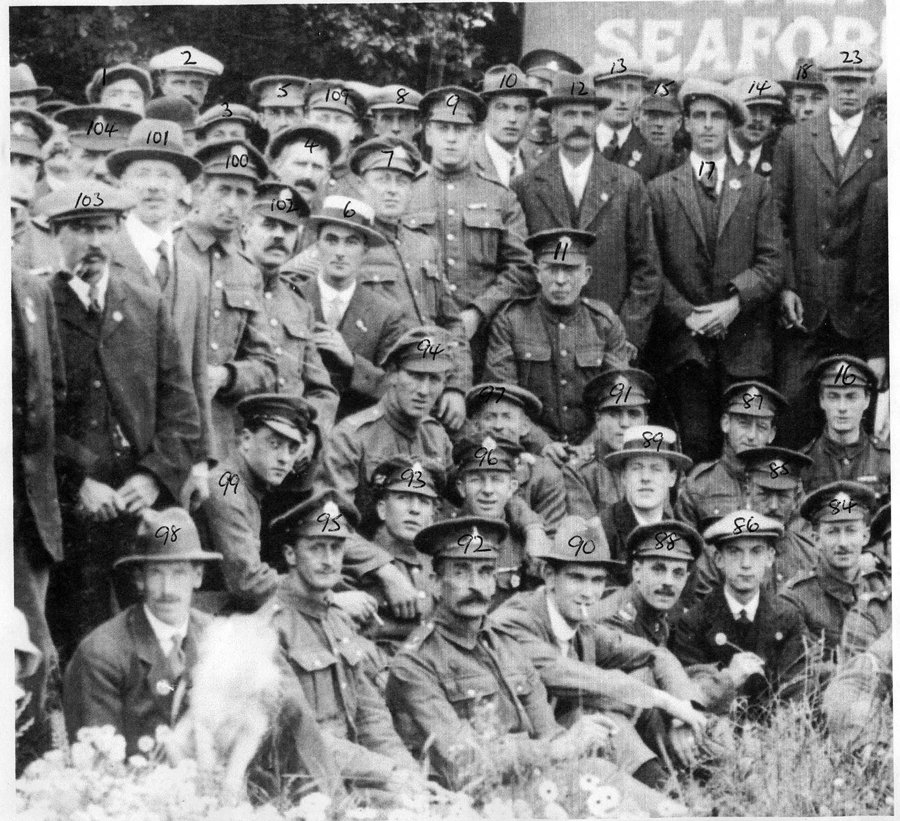 Albert Coffen (4) William 'Nobby' Clarke. (10);  George (Bunny) Peckham (11)  Bert Simmons (12);  Algie Burtenshaw (13);  Fred Bowley (84)   Harold Foster (Cap) (86);   Ernie Morgan (91);  Mr. J. Cornish (92);  Tom Peckham (96);  Jo Yeo. (95);  Mr. Snushell. (101);  Mr.Wood (102);  Mr. Huntley (97)  Alf Simmons (103)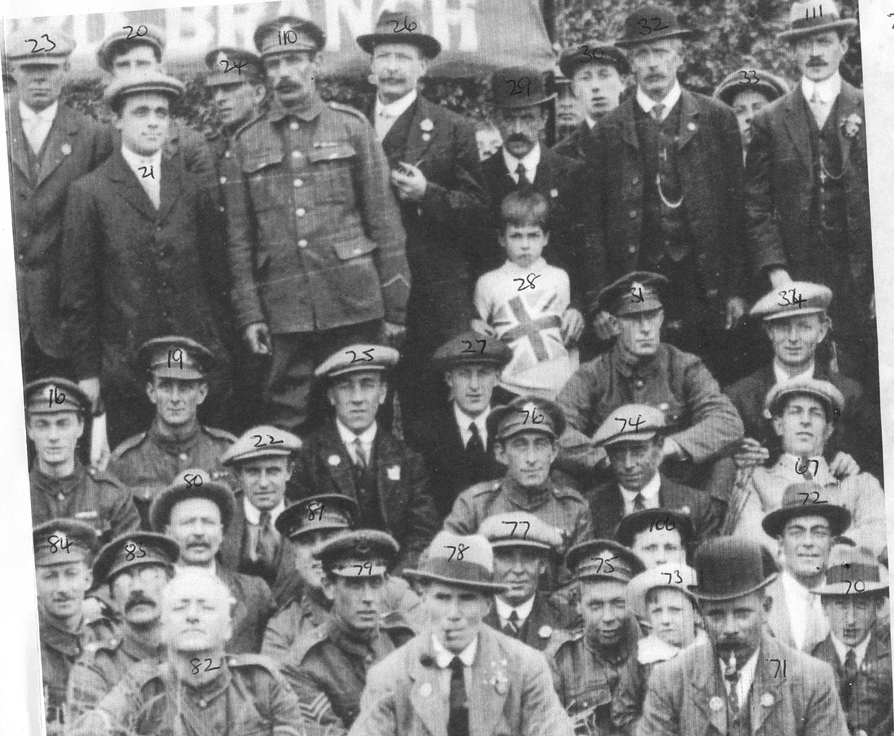 Jim Wood, (21);  Charlie Macey (22)  Fred Sexton (25)  Horace Layen (27)  Fred Cheal (29)   Tom 'Sandy' Norman,(34);   Charlie Hamper. (Bowler hat & pipe) (71)Fred Lambert (67 or 72)  'Blower' Parks (75);   Jess Lambert (77)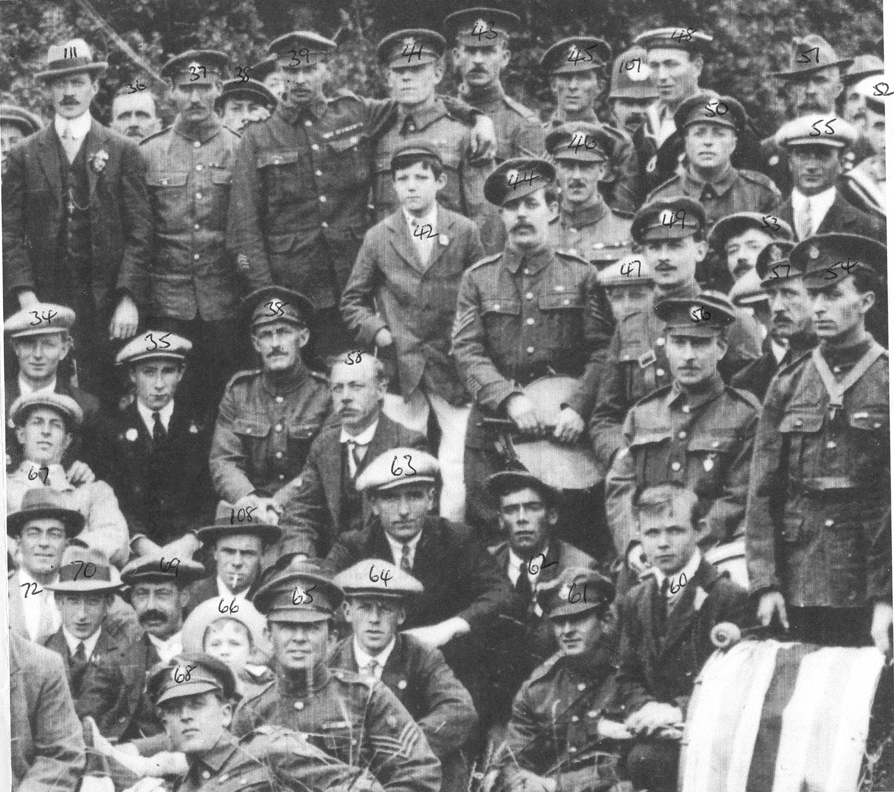 Charlie Lambert (35)  Sid Stace, (next to policeman) (45);   Pug' Pettitt (53) ;   Jack Cosstick (63)  Arthur 'Sticky' Fowler (64)   Bobby Green,.(Sgt) (65);   Percy Kennett, (Laying down) (68);   Ben Foord, Policeman (107);   Les Seymour (108) Mr. Isted? (111)